CBSsports – Giants ace Madison Bumgarner is an All-Star this season and deservedly so. He's also pitching on Sunday, making him ineligible to pitch in the Midsummer Classic on Tuesday. Thus, the NL gets a replacement and that replacement will be Mets starter Bartolo Colon.
Colon, 43, is pitching in his 19th big-league season and this marks the fourth All-Star trip for the former Cy Young winner.
This season, Colon is 7-4 with a 3.28 ERA, 1.22 WHIP and 65 strikeouts in 98 2/3 innings. He re-signed with the Mets this past offseason on a one-year, $7.25 million deal and has been invaluable, especially in light of Matt Harvey's woes.
Colon is the oldest All-Star this season. The youngest, Corey Seager, was four years old when Colon made his first All-Star Game.

Good for Big Baby Bart, good for Terry, good for baseball. This is a huge power move. Anything this guy does on a ball field is electric, as evident below.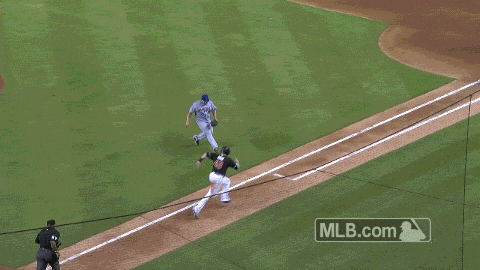 I'm a 20 year old college baseball player and there is a 0.0% chance I would be able to pull off a work of art like that. That's right, a 43 year old, morbidly obese man would absolutely house me in an athletic competition of any kind, and there is no shame in it.
Great move by baseball here. In a time where Rob Manfred is actively trying to ruin the game (to be blogged about later), this is something that can entertain fans of all kinds. Traditional old timer fans, new young fans, casual fans, saber-metric geeks, all can rally around seeing Bartolo Colon do anything on a sports field of any kind. And don't be surprised to see them pull put this move for the Home Run Derby either, replacing a nerd like Will Myers or Adam Duvall. Bartolo means ratings. If another sport wants to adapt this marketing model, please do so. Close your eyes and picture Bartolo Colon draining 3's or doing a dunk of any sort. I rest my case.